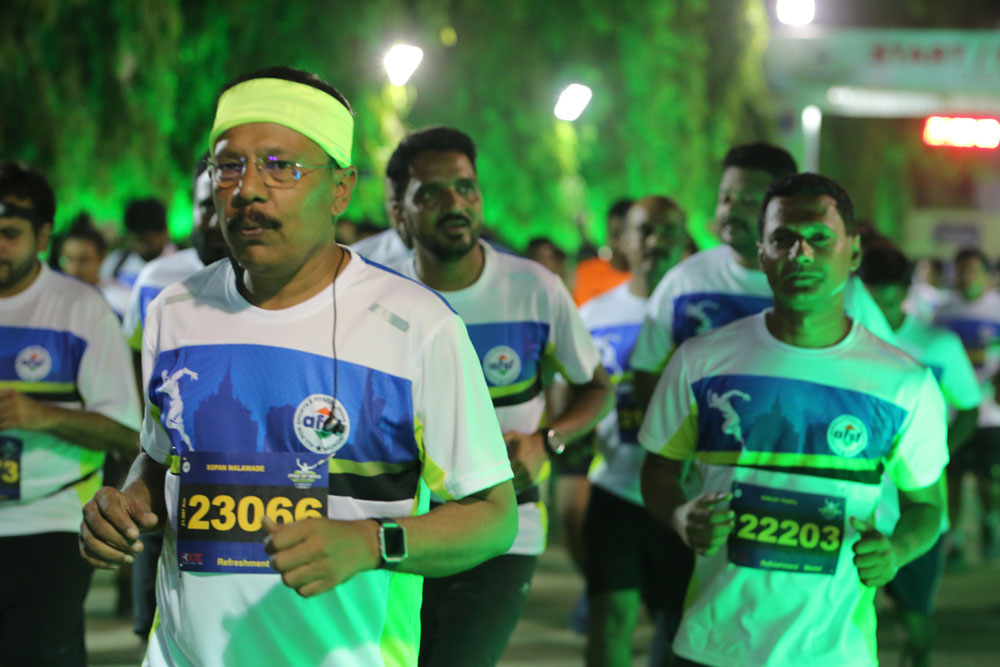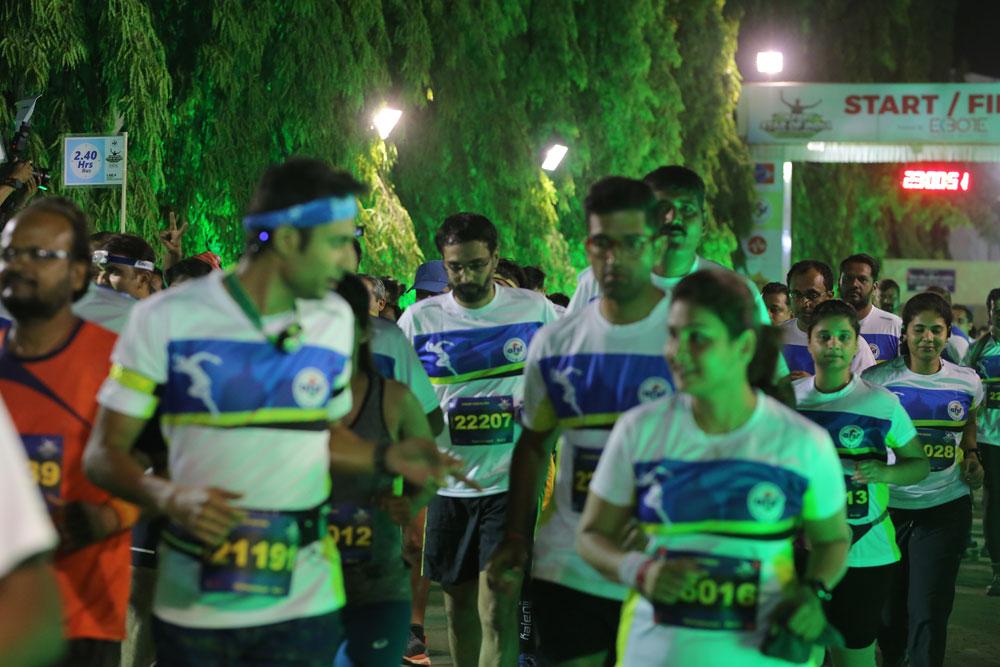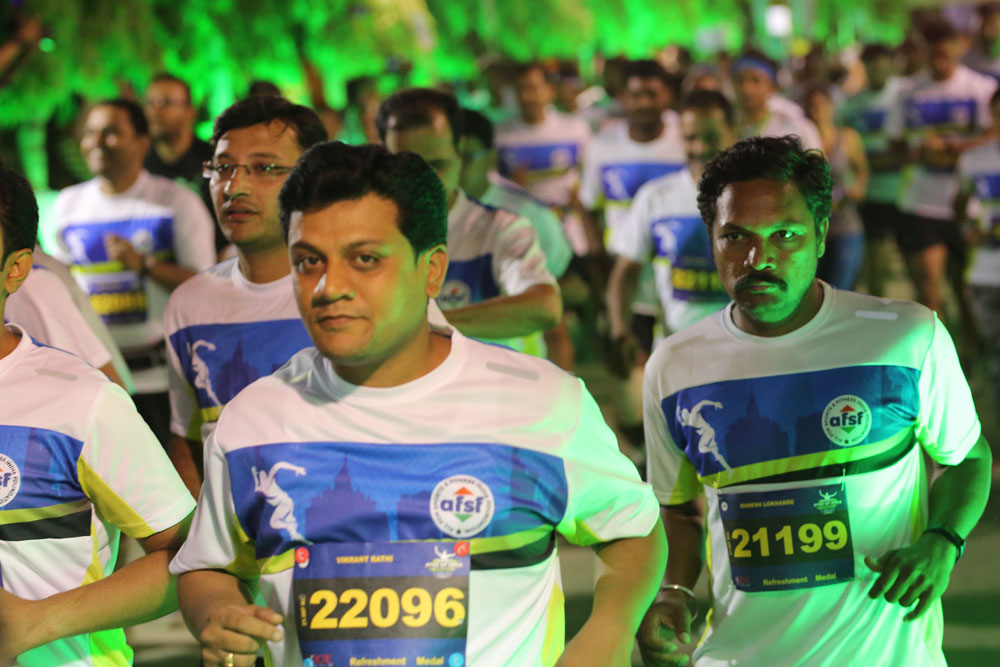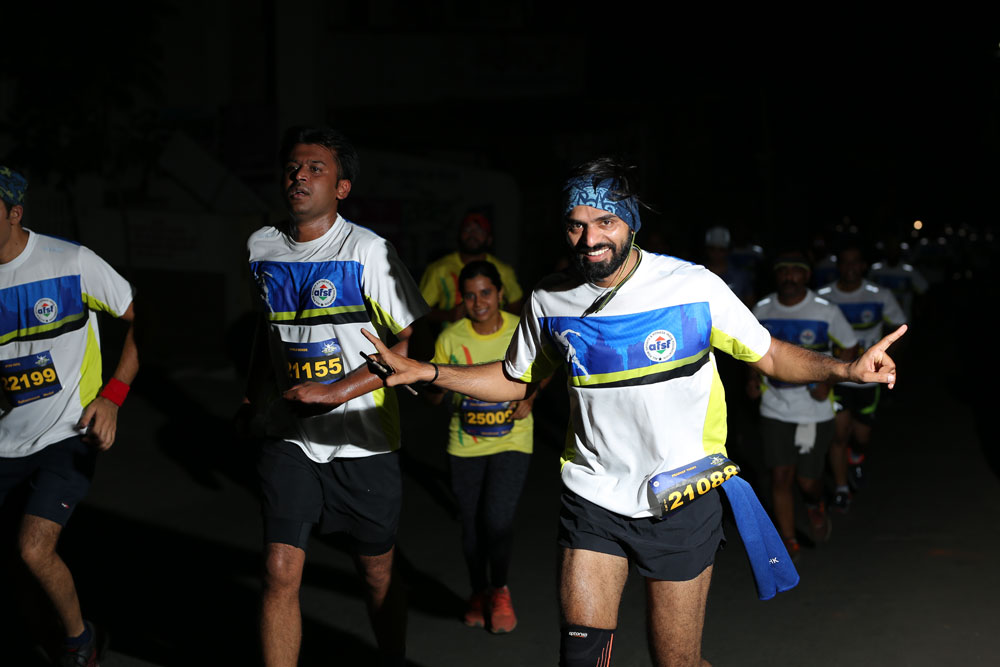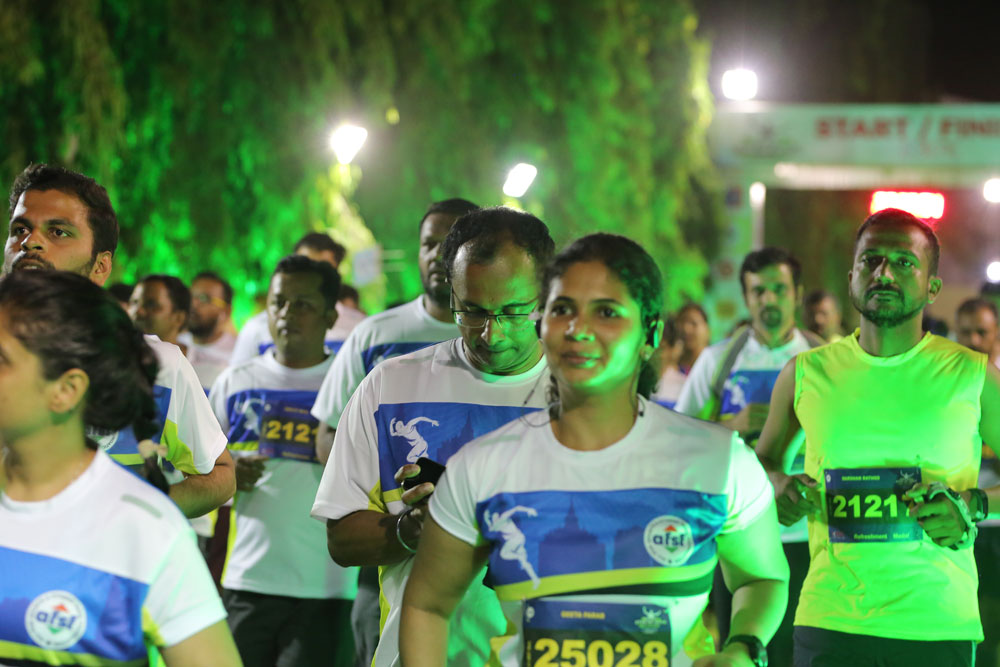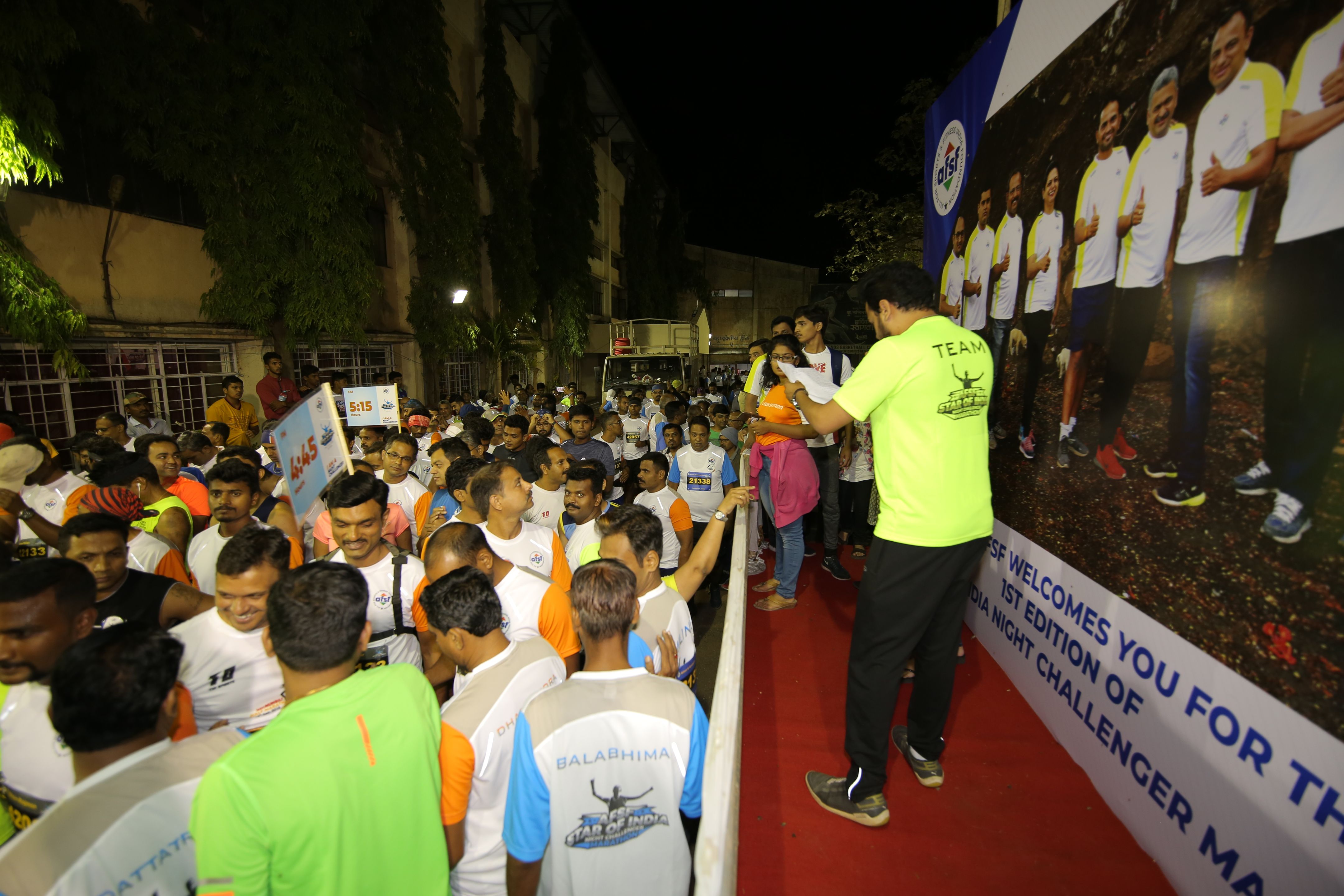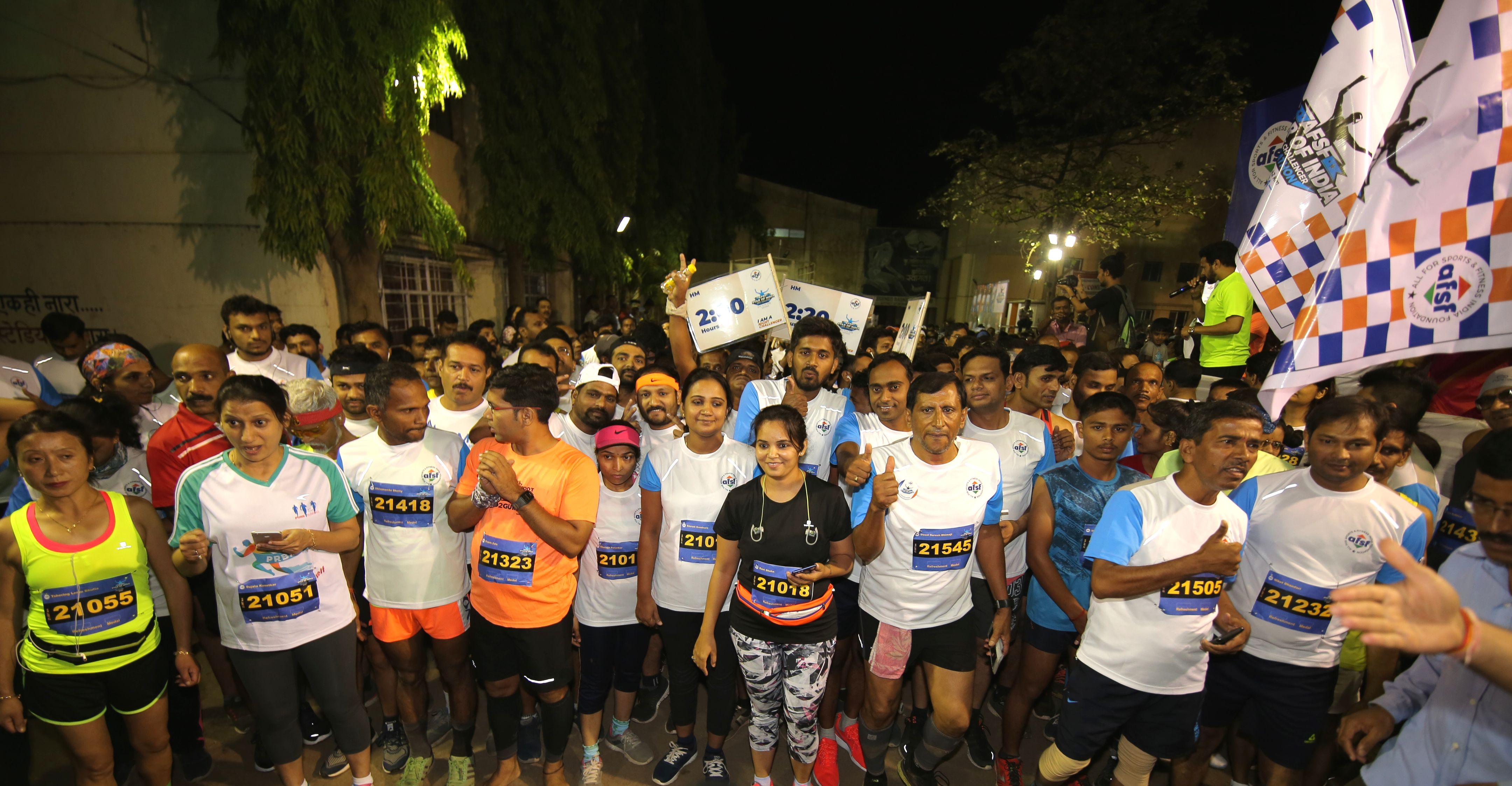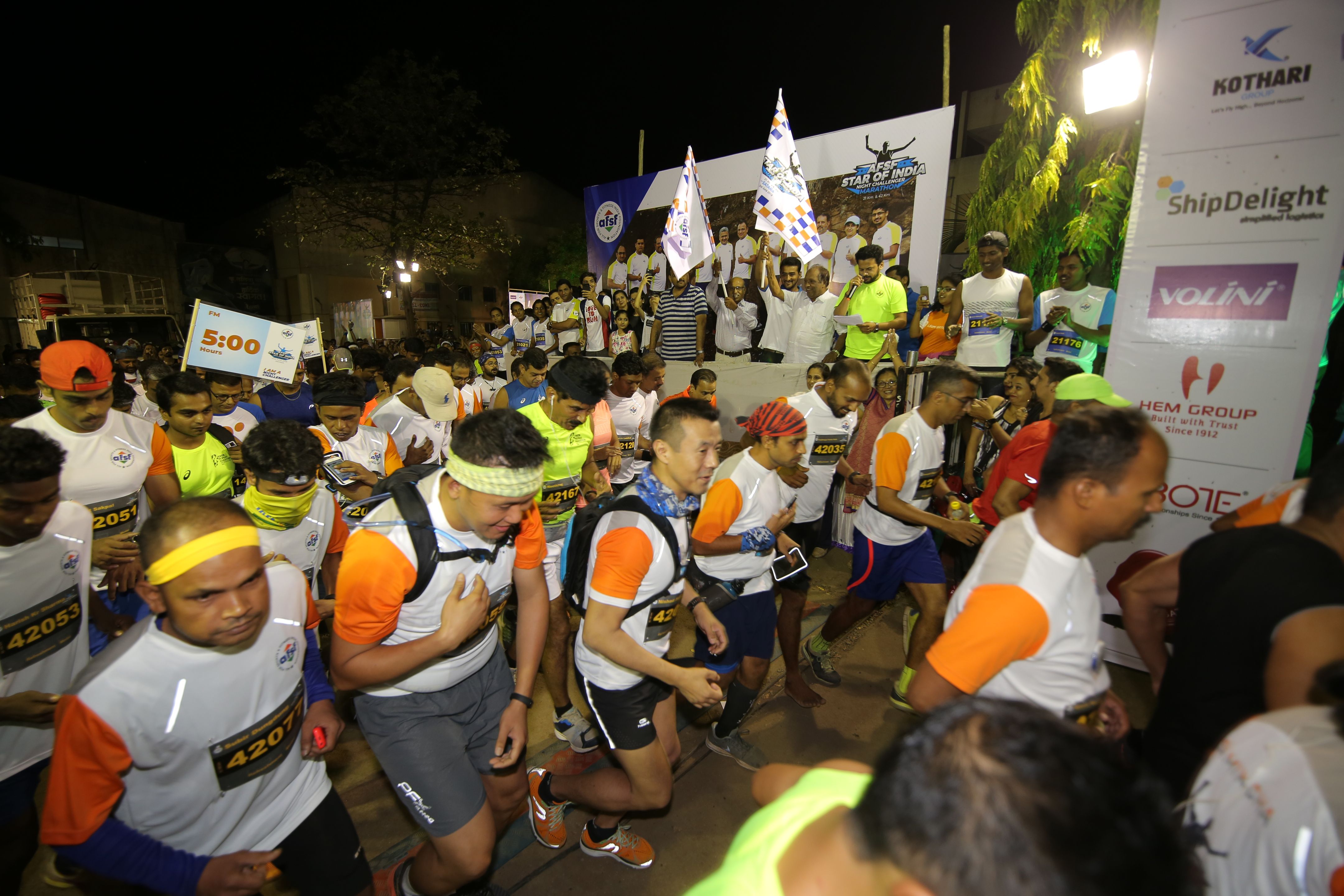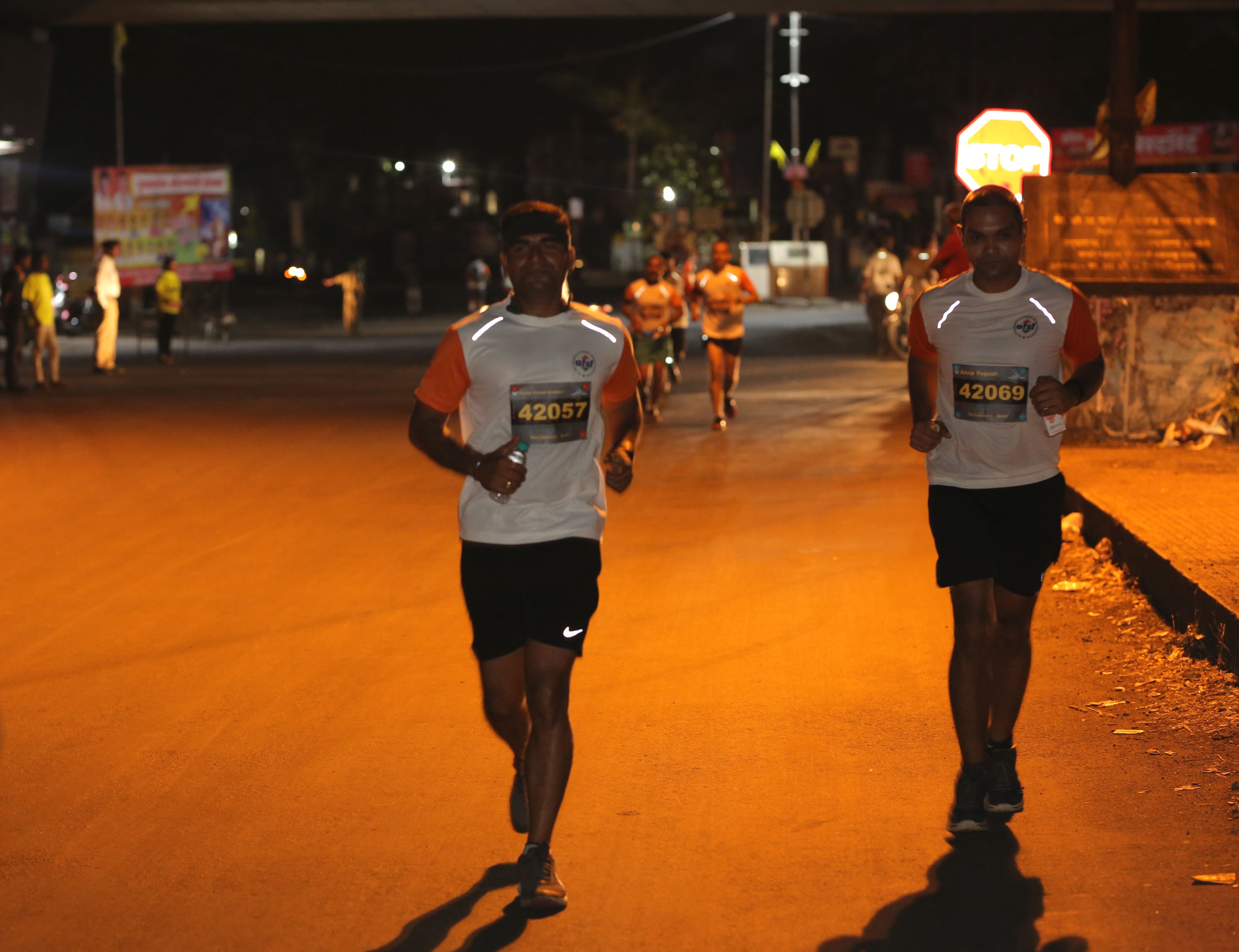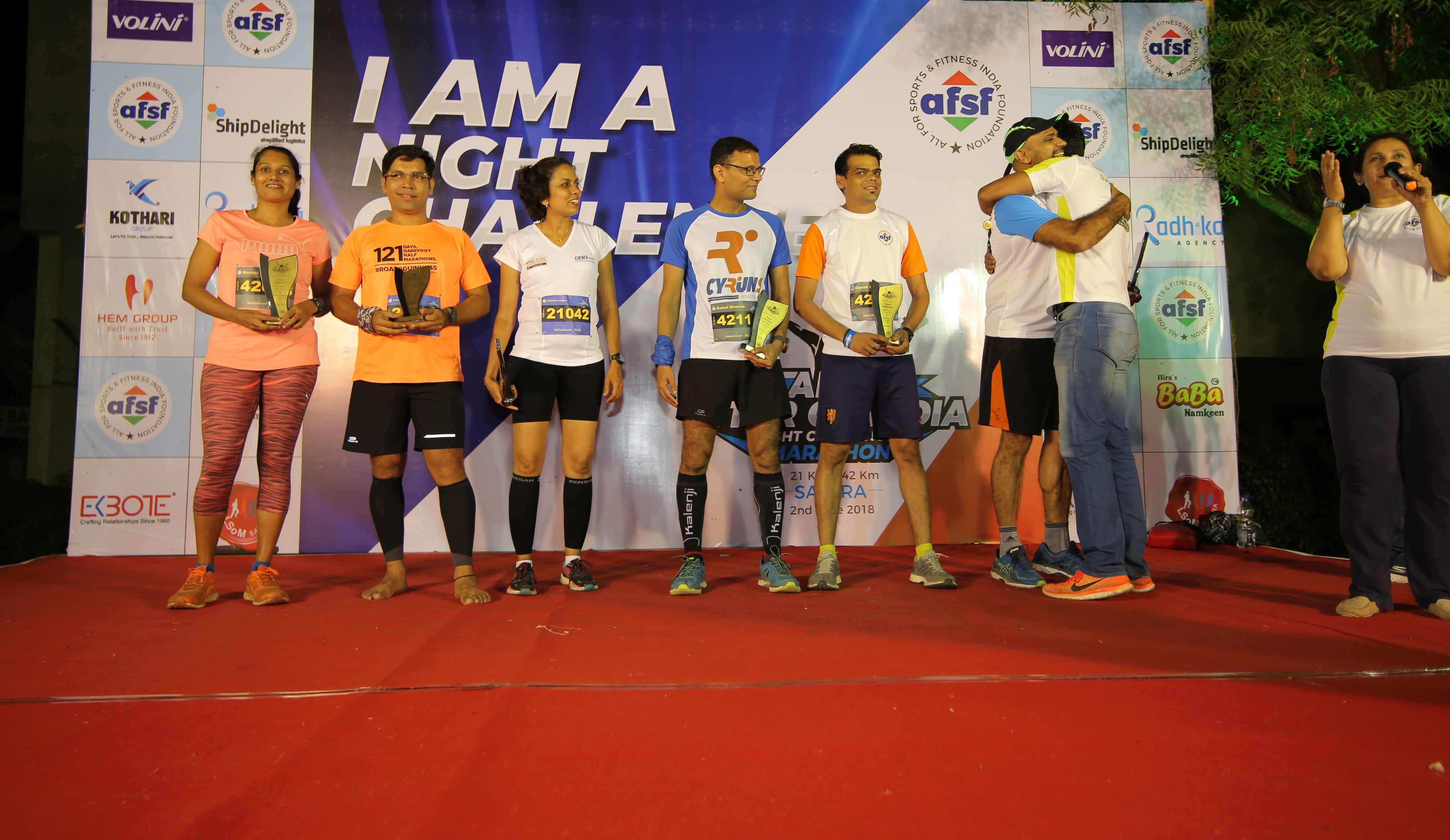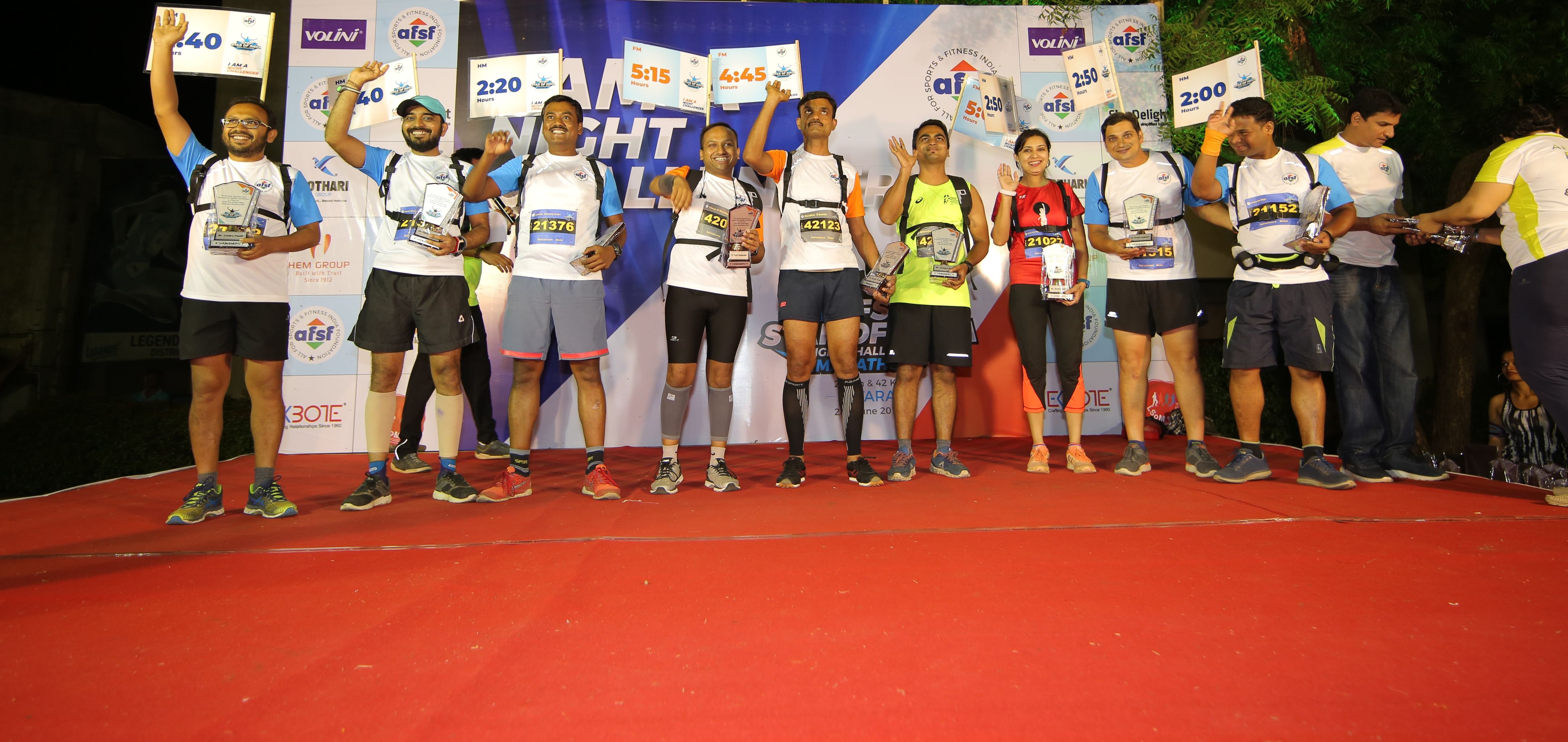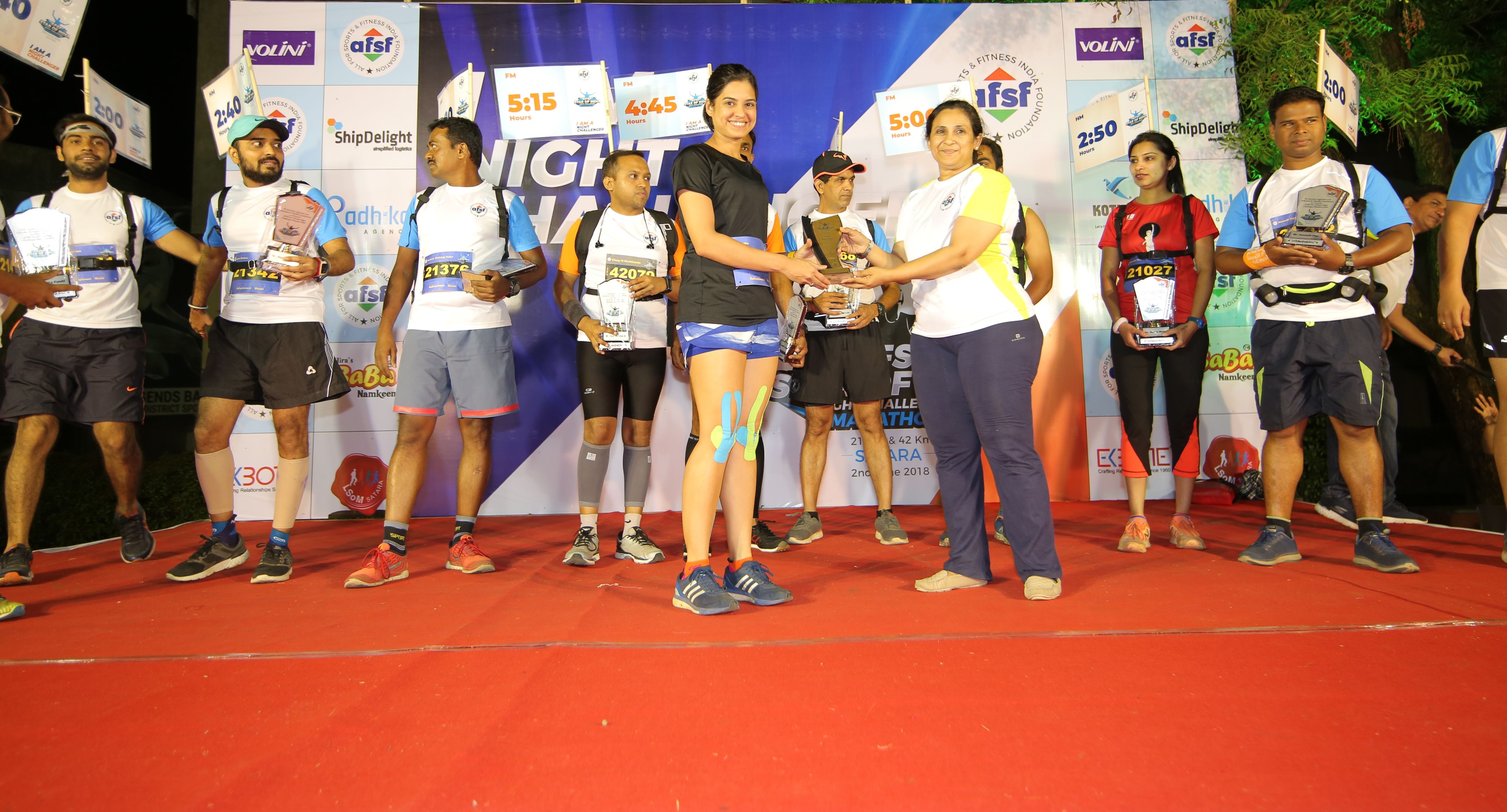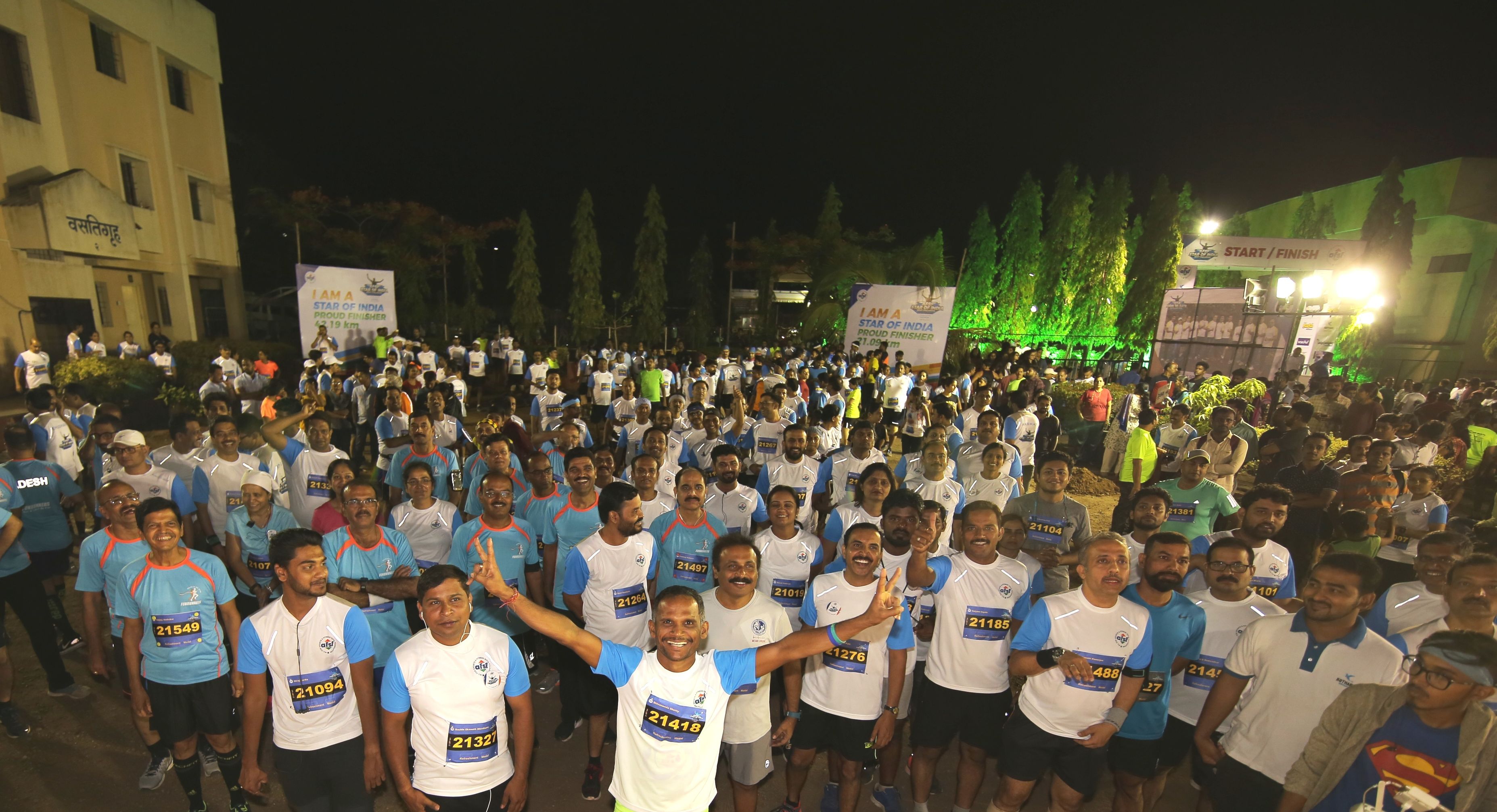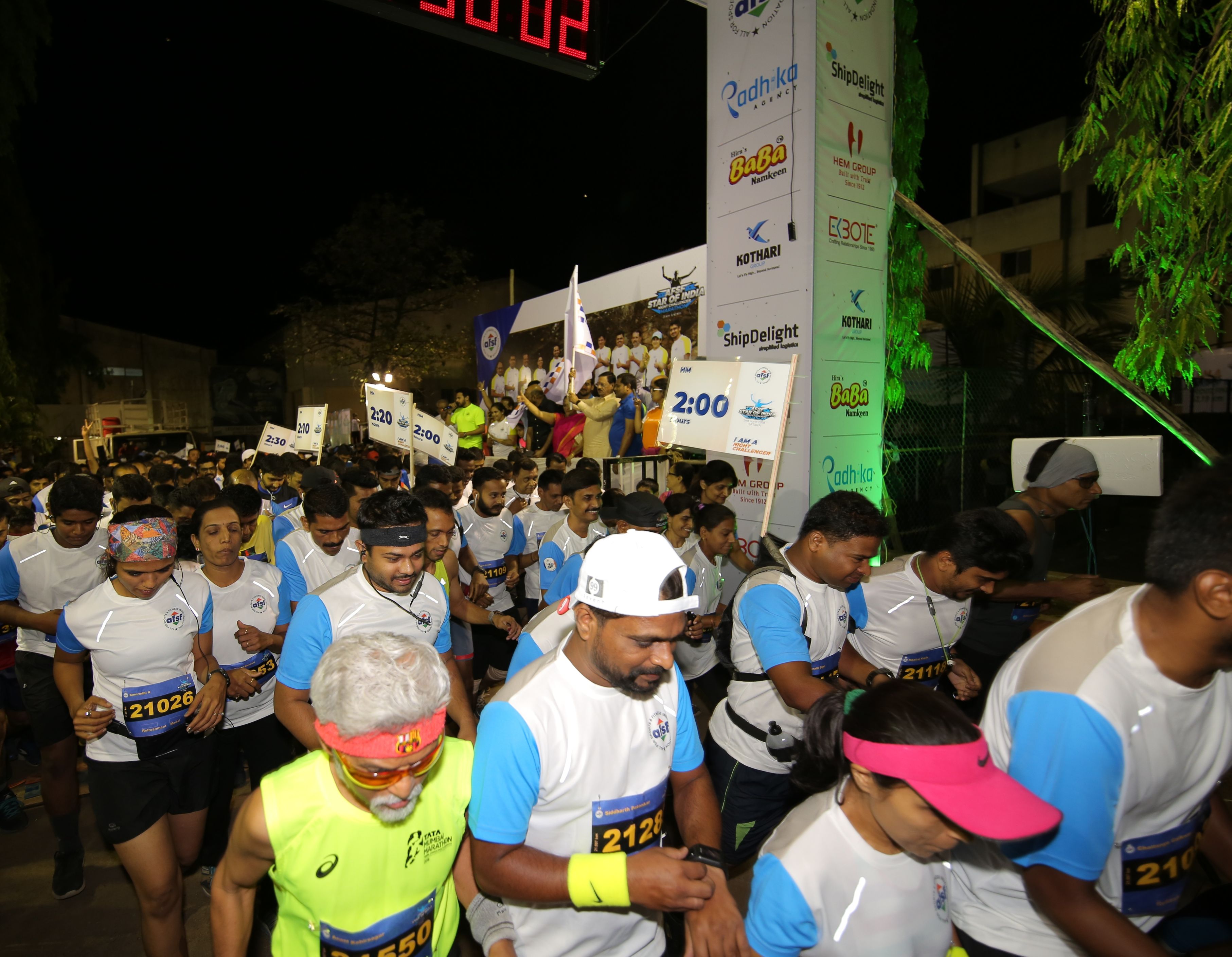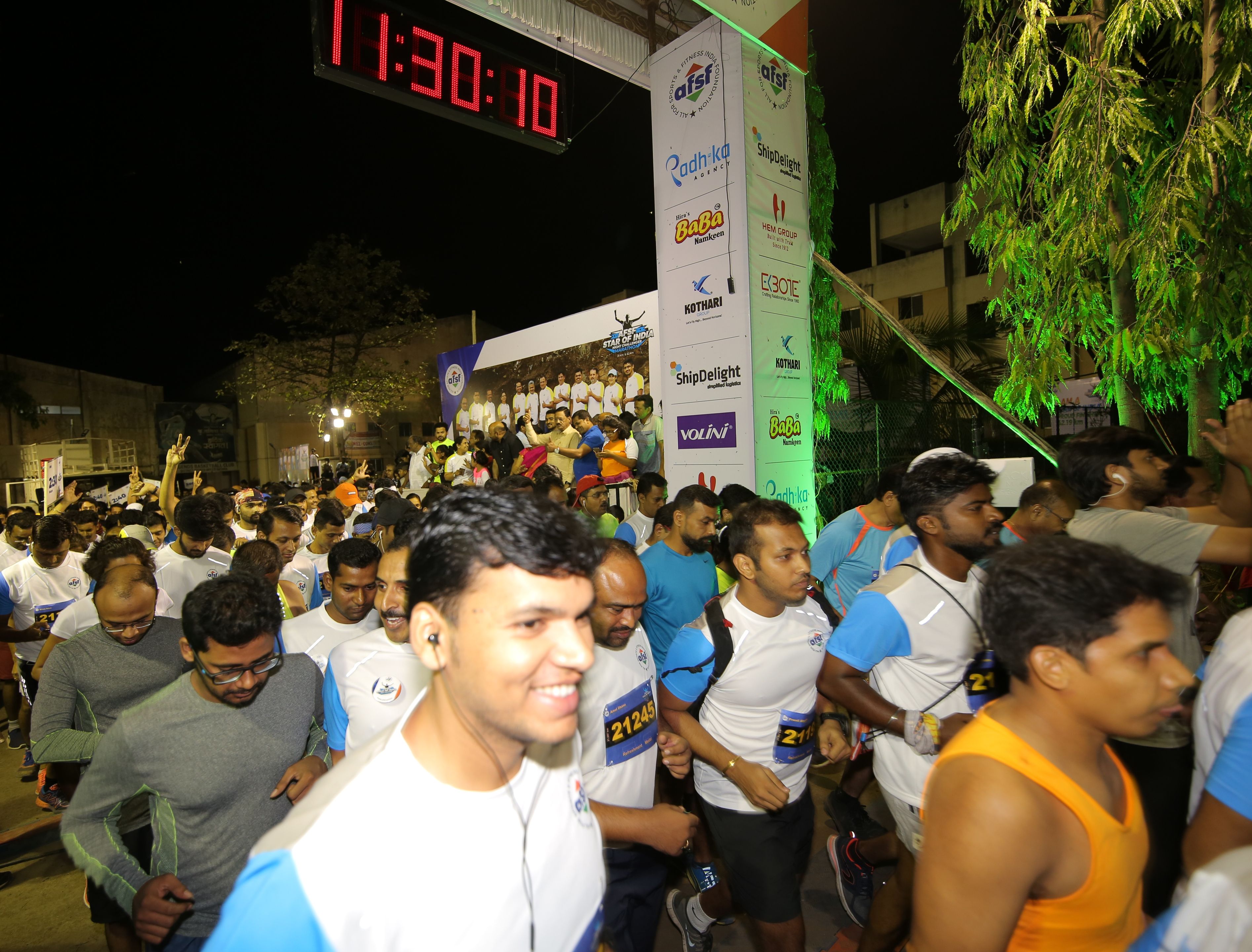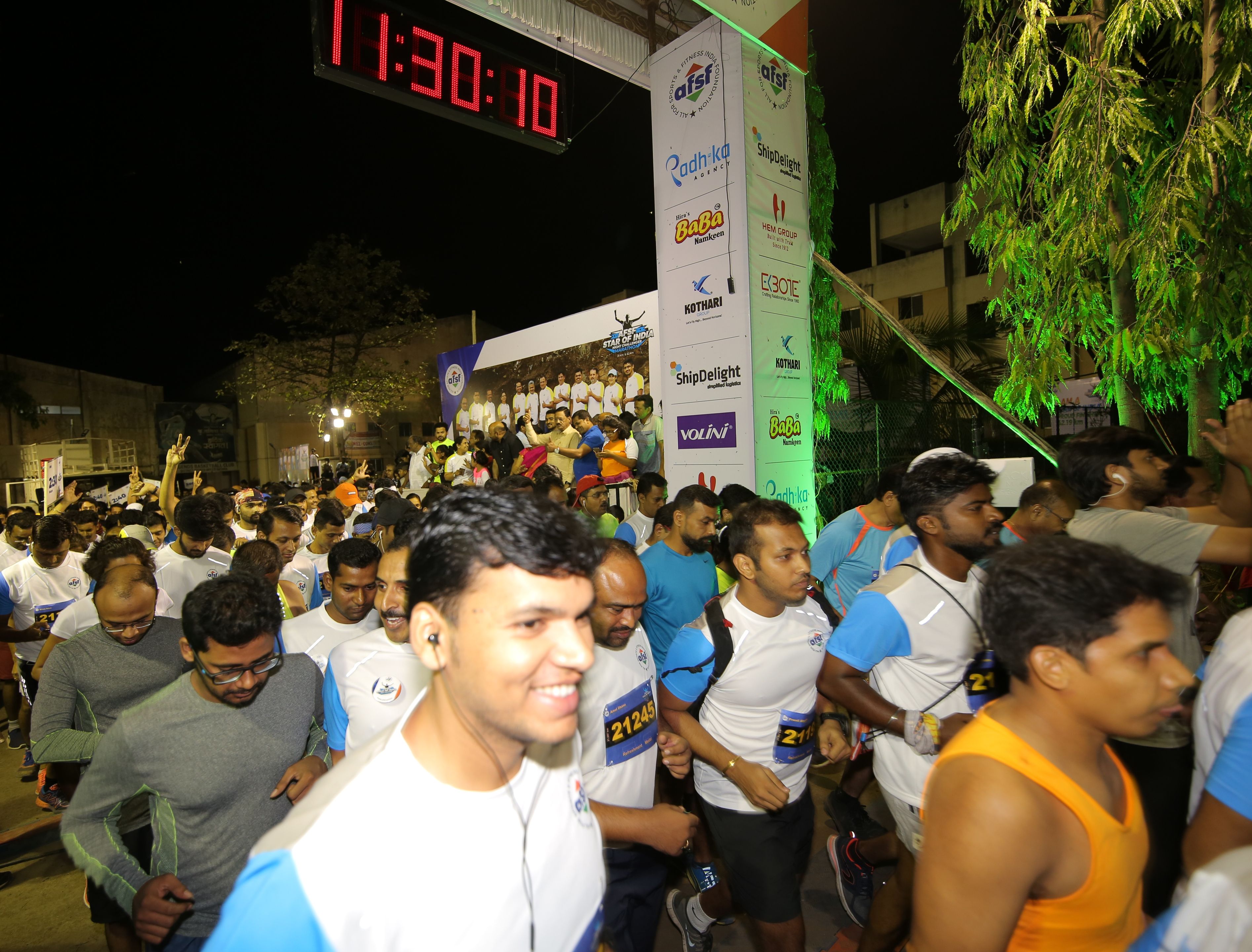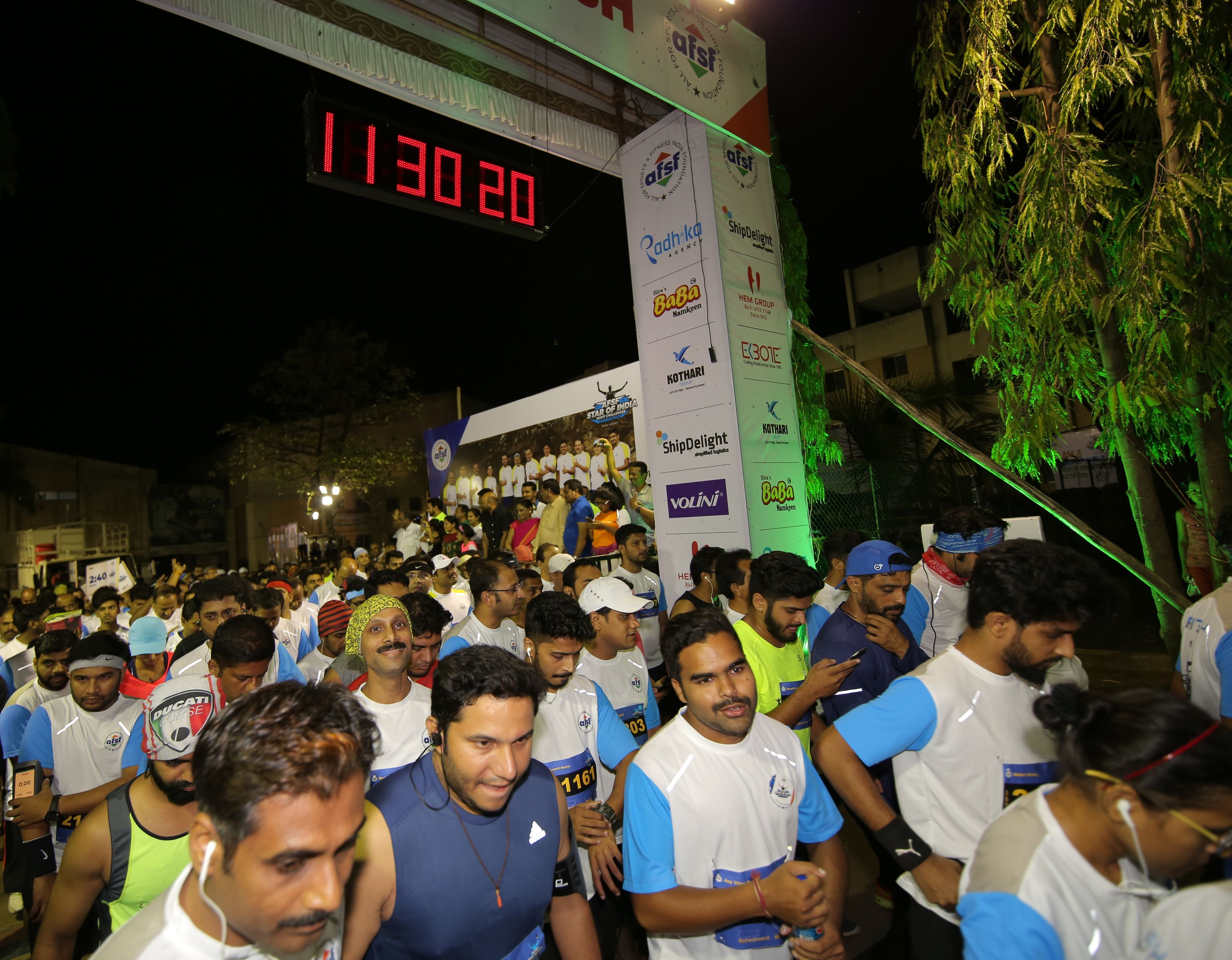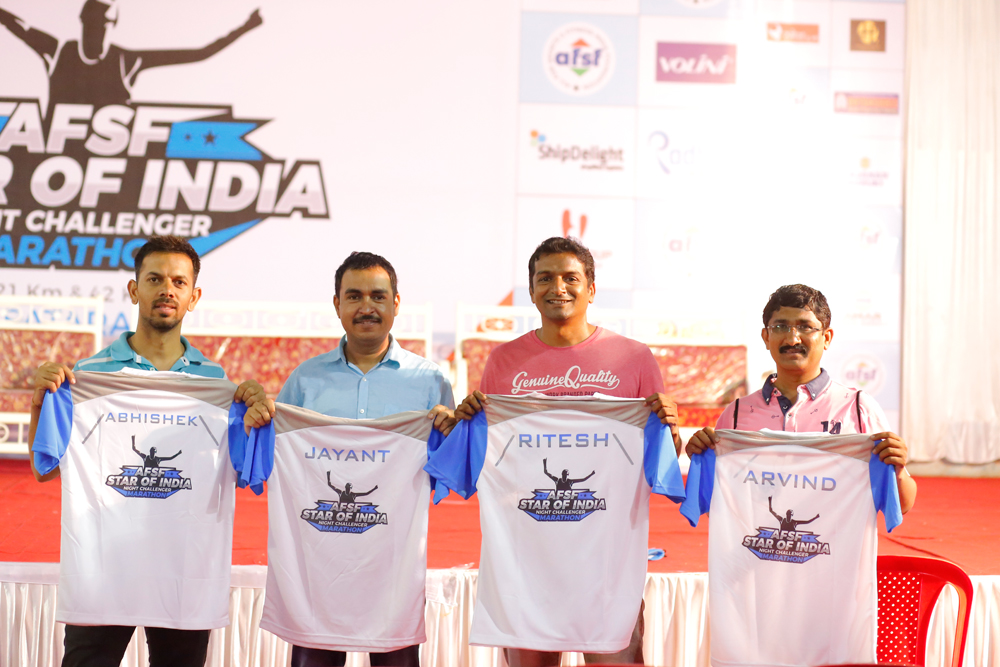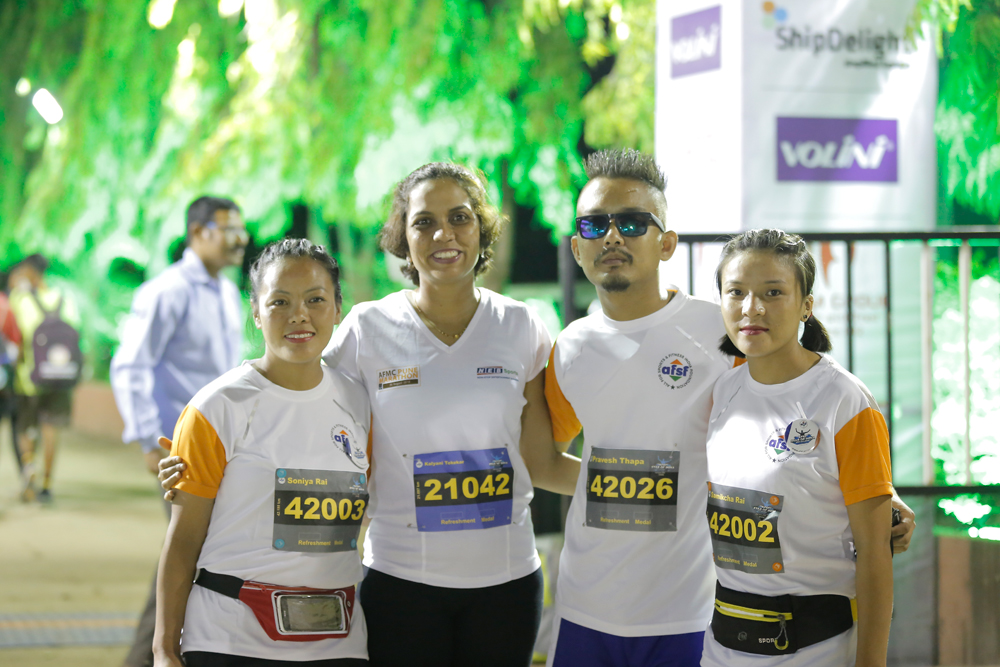 AFSF STAR OF INDIA NIGHT CHALLENGER MARATHON
Registrations Starting Soon
With 2 consecutive very successful editions of AFSF STAR OF INDIA NIGHT CHALLENGER MARATHON in 2018 &2019, and AFSF team was showered with Love and Appreciation from runners all across India.
This Marathon got Ranked as the topmost marathon in India in 2019 in the overall marathon experience category among all marathons across India.
Route got ranked as 15th Toughest Route of India.
Received 4th Ranking in Best Route Support among all Marathons in India.
With more than 1cr of direct & indirect viewership, AFSF reached great heights of popularity & prestige.
Growing at 300% from 1st edition in 2018 to 2nd edition in 2019.
This Marathon hosted & welcomed runners coming from almost every state & City of India.
First of its kind customized Marathon in India at a city where Marathons are Celebrated as Festivals & it is not just runners, it's a fair or mela for citizens as well, also called Runners paradise – City Of historical importance –Satara.
First time ever in Marathon history of India we pioneered a trend of Personalized Medals in with every runner's name on it along with personalized T-shirts.
Distances categories 10 km / 21.09 km – Half Marathon / 42.18 km- Full Marathon.
Features
A very prestigious never before experience to be a privilege runner at this Prestigious Marathon.

A distance of 10 / 21/ 42 km's with no 200 m's of similar terrene
Customized Race T-shirts with reflectors on it
Never before Customized (Every Runners name on their individual medals)
Standing Medals ( Need not be hanged, they can be placed on your showcase
Excellent route support with almost water Station & cooling stations alternately setup after every 500 meters. And excellent cheering & support along the route by locals.
All the funds created or saved through this event will be utilized for AFSF Social Initiatives.
Registration Charges
10 Km : INR 1200/-
21 Km : INR 1500/-
42 Km ( Full Marathon ) : INR 1800/-
Includes
Bibs with Timing chips
Customizes T-shirts with your name & reflectors
Customized Medal with your name on it
Timing certificate & Finish line Video
Finish line Video
Refreshments after race & Route support
Cancellation Policy
Congratulations! On your Successful Registration for AFSF Star Of India Night Challenger Marathon.
You are one of the Privileged entry for Limited 2000 Second Edition of this Prestigious Marathon.
Kindly also note that
1. Being a limited entry edition, this registration cannot be canceled after registration closing date, that is 20th March 2019.
2. It can be transferred transferable till 20th March 2019.
3. Change of category can be requested till 20th March, 2019.
After 20th March 2019 Change of Category or transfer will not be considered.
Brand Ambassadors
We at AFSF India Foundation are honored and happy to welcome and announce these iconic and inspiring personalities as the  "Stars of India"  for our Star of India Night Challenger Marathon.
 This is a one of a kind event for Adventurous & Serious runners from all over India.  This will be an exclusive experience as all the marathoners will be receiving the customized event T-shirts and Medals with their respective names on it. 
Apart from it being a one of a kind Night Marathon, it is also special as its being hosted by a City which is historic, blessed by Nature and famous for its Running Culture & legacy, being home to the iconic Satara Hill Half Marathon. 
The presence of these star runners is surely going to be invaluable in boosting the spirit and zeal of the participating runners. 
All the Iconic Star Runners will be acknowledged and felicitated at an exciting and eventful ceremony which will be held at the pre-race expo.
Looking forward to seeing you running this exclusive Night Marathon in our historic City  !!!
Prizes
2019 Prize Money - Declaring Soon
AFSF Star OF India Night Challenger Marathon 2018 Winners
Female Categories :
Full Marathon : Open
Rank Name CHIP_Time
1st Prize – Samikcha Rai (#Darjeeling) 4:26:13
2nd Prize – Manasi Samudra (#Mumbai) 4:37:32
3rd Prize – Ashwini G (#Bengaluru) 4:53:32
Half Marathon : Senior
Rank Name CHIP_Time
1st Prize – Tshering Bhutia (#Darjeeling) 1:52:39
2nd Prize – Pooja Varma (Mumbai) 2:05:36
3rd Prize – Poonam Gaikwad (#Satara) 2:16:11
Half Marathon : Open
Rank Name CHIP_Time
1st Prize – Deepti Kolar (#Pune) 2:04:40
2nd Prize – Samrudhi K (Pune) 2:15:22
3rd Prize – Neha Gupta (Pune) 2:17:02
Male Categories :
Half Marathon : Neo Veteran
Rank Name CHIP_Time
1st Prize – Shivananda Shetty (Mumbai) 1:33:56
2nd Prize – Pravin Zele (Pune) 1:54:41
3rd Prize – Tirtha Basu (Mumbai) 1:54:48
Half Marathon : Open
Rank Name CHIP_Time
1st Prize – Ankeet Navghane (#Satara) 1:25:24
2nd Prize – Malikarjun Parde (Satara) 1:26:52
3rd Prize – Shivam Kaple (Satara) 1:33:32
Half Marathon : Senior Veteran
Rank Name CHIP_Time
1st Prize – Kailash Mane (#Karad) 1:34:34
2nd Prize – Harish Chandra (#Gandhinagar) 1:35:19
3rd Prize – Uday Mahajan (#Kolhapur) 1:38:13
Full Mrathon : Open
Rank Name CHIP_Time
1st Prize – Vaibhav Anil Kokil (Satara) 3:27:53
2nd Prize – Prashant Kadam (Satara) 4:29:32
3rd Prize – Shyam Poovaiah (Bengaluru) 4:29:46
Full Marathon : Neo Veteran
Rank Name CHIP_Time
1st Prize – Rahul Sharma (#Ahmedabad) 4:11:16
2nd Prize – Ramesh Babu Gattu (Gandhinagar) 4:18:45
3rd Prize – Devi Shetty (Bengaluru) 4:29:44
Full Marathon : Senior Veteran
Rank Name CHIP_Time
1st Prize – Anand Naidu (Mumbai) 3:49:58
2nd Prize – George Thomas (#Karad) 4:11:26
3rd Prize – Vishwanath Shetye (#vasco_Goa) 4:13:18
42 KM Full Marathon
1st Prize: INR 7000
2nd Prize: INR 5000
3rd Prize: INR 3000
21 / 10 KM Half Marathon
1st Prize: INR 5000
2nd Prize: INR 4000
3rd Prize: INR 3000
Race Expo/BIB Distribution
Date : 1st June 2019
The Race ( BIB, Event Tshirt, Timing Chip, Race instructions, etc ) for AFSF Star Of India Night Challenger Marathon will be handed out to the registered runner at the race expo on Saturday 1 st June2019 Timing: 10 am to 5 pm
Registered runners will be sent detailed route directions to reach the venue via email.
Please carry and produce a proof of registration in terms of email or receipt printout, screenshots.
Race kit can be collected only on expo time by giving id proof only.
No spot registrations will be available on expo date.
If you cannot be present to collect the race kit, you can send an authorized person with id proof.
Empty tab. Edit page to add content here.
Route
An excellent city Route illuminated with city lights. Click the Garmin Profile for Route details.
Route Profile
Age Categories
Male/Female
Open: 18 to 35
Veteran: 36 to 45
Senior Veteran: 46 & above
Dear Runners, The final listing of age Categories will be subject to change till 30th Oct 2018.
Line Up
| Section | 21KM | 42KM |
| --- | --- | --- |
| A | < 2 Hrs | < 4.30 Hrs |
| B | < 2.30 Hrs | < 5.30 Hrs |
| C | > 2.30 Hrs | > 5.30 Hrs |
Training Schedule
Please note that long runs should preferably be done in the night or late evening.
Kindly download the Training Schedule & Details below:
42K Schedule
21K Schedule
Training Schedule explained by our Training Partner Sunil Menon from Menon Fitness systems.
Training Partner
Menon Fitness Systems
Sponsors
Powered by Sponsors
Associate Sponsors